Announcement
The Best Baseball Monologue ever
More editing options
We invite you to click on the picture or the link below to listen to
Abbott & Costello's fabulous
"Who's on First?"

We suggest that you stop the site's music by clicking on the stop button on the music player near the top of the page, then click on the play button for "Who's on First?"

Be advised that it is a large file and may take a while to load.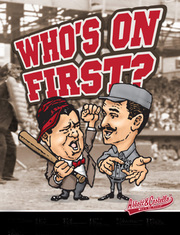 Comments
There are no comments for this announcement.